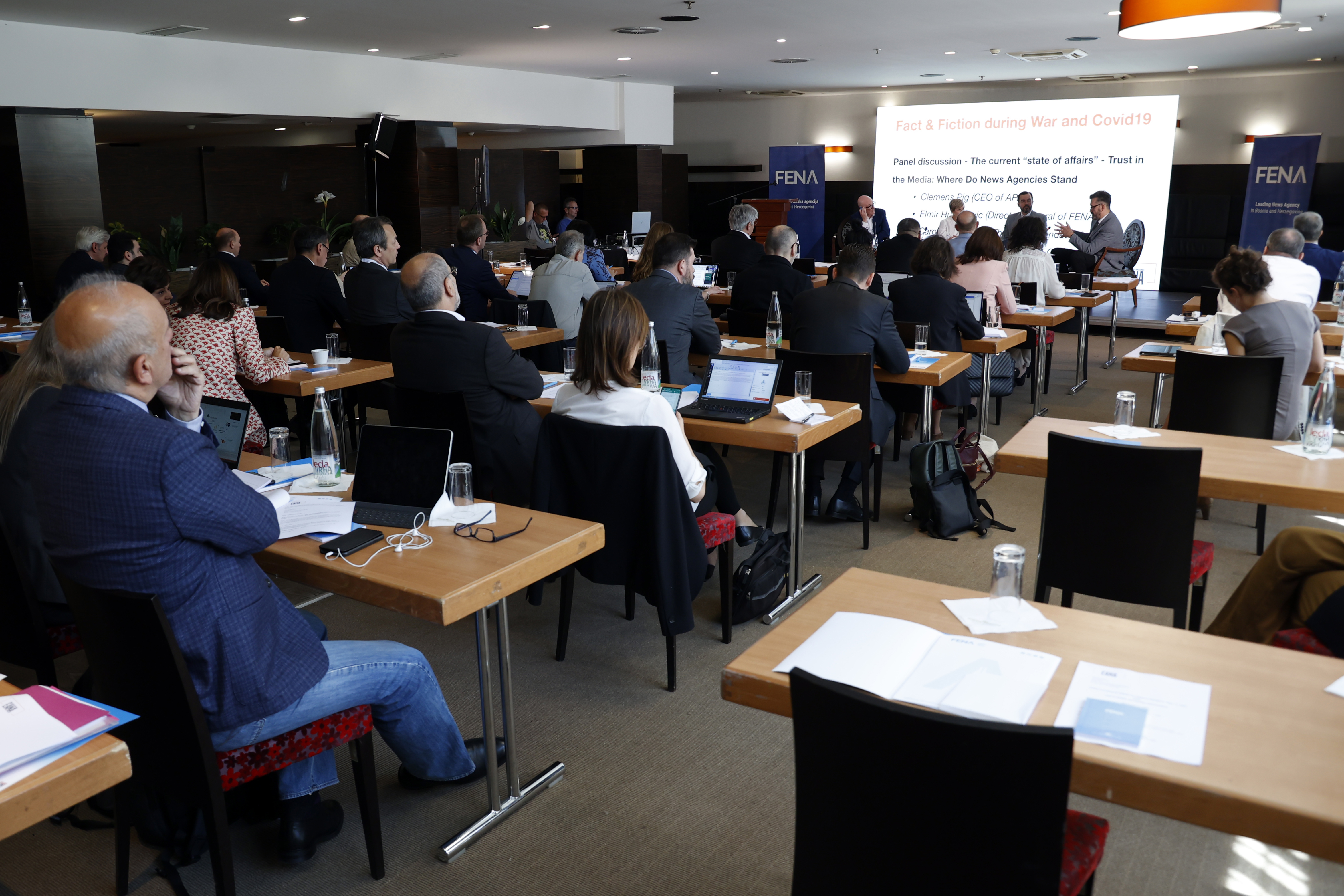 Photo: Opening panel discussion: Clive Marshall - CEO of PA Group & member of the Board of EANA, Caro Kriel - CEO of the Thomson Foundation, Clemens Pig - President of EANA & CEO of APA, Elmir Huremović - General Manager of FENA & member of the Board of EANA. Photo credit: FENA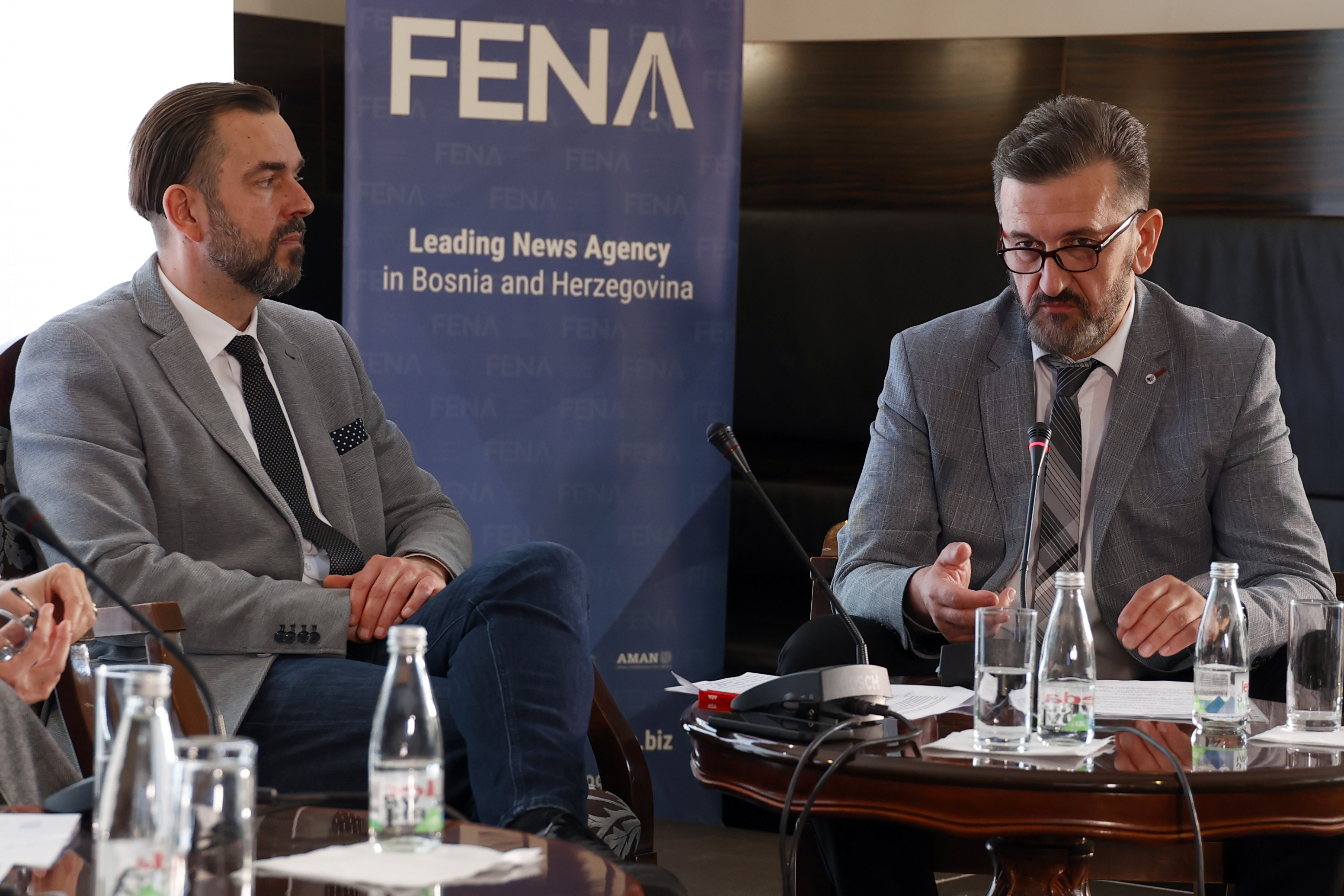 Photo: Opening panel discussion: Clive Marshall - CEO of PA Group & member of the Board of EANA, Caro Kriel - CEO of the Thomson Foundation, Clemens Pig - President of EANA & CEO of APA, Elmir Huremović - General Manager of FENA & member of the Board of EANA. Photo credit: FENA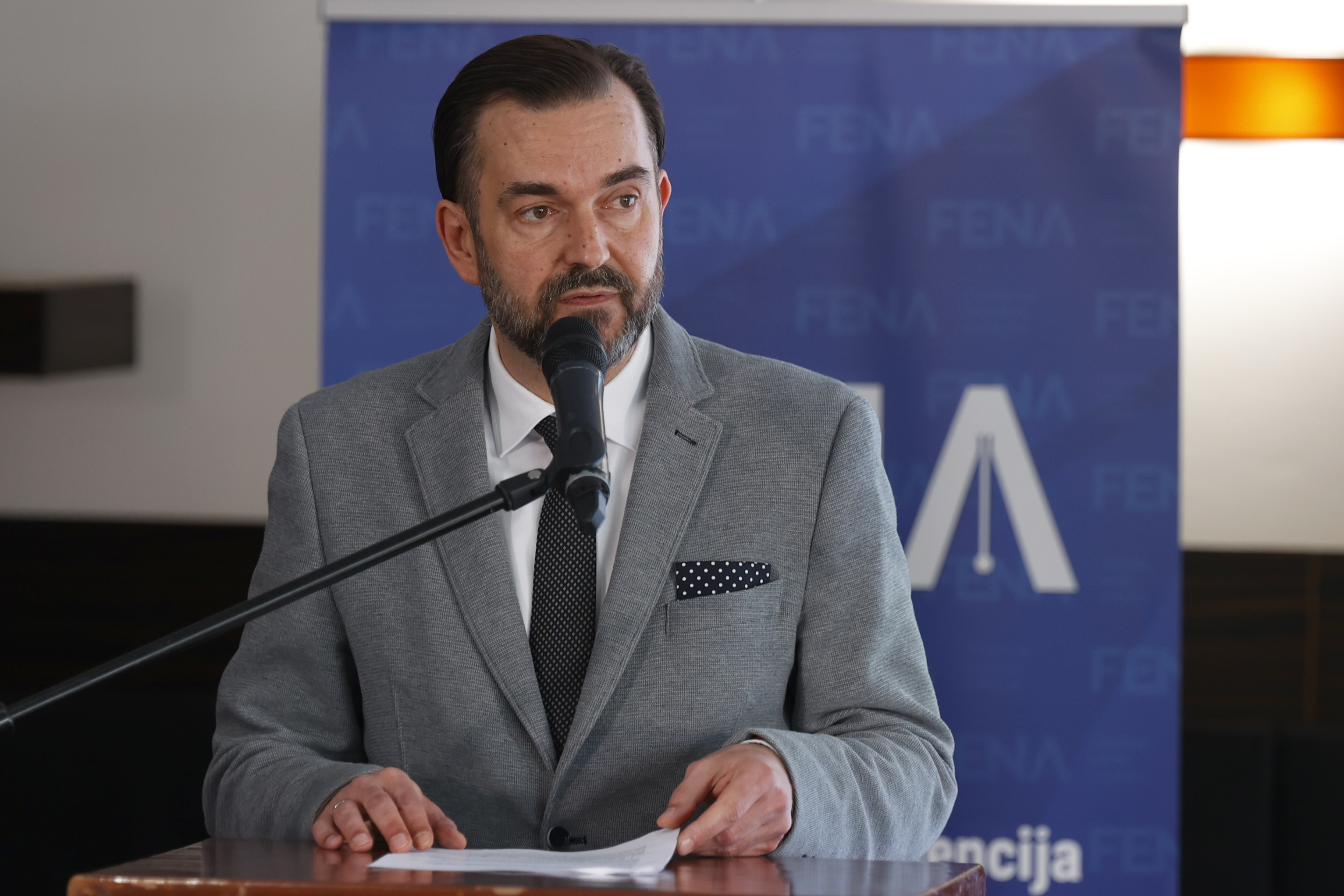 Photo: Opening panel discussion: Clive Marshall - CEO of PA Group & member of the Board of EANA, Caro Kriel - CEO of the Thomson Foundation, Clemens Pig - President of EANA & CEO of APA, Elmir Huremović - General Manager of FENA & member of the Board of EANA. Photo credit: FENA
The European Alliance of News Agencies (EANA) discussed "Fact and Fiction" during Sarajevo conference
The European Alliance of News Agencies (EANA) held its Spring Conference 2022 in Sarajevo, hosted by member news agency FENA. The title of the conference was "Fact and Fiction during War and Covid19", and the members benefited from keynotes from Vera Jourova, VP of the European Commission (via video message) and Caro Kriel, CEO of the Thomson Foundation.
Starting by providing an overview of the current state of affairs for European news agencies, the conference shed light on how journalists are working on the ground in Ukraine during the war, following disinformation tactics and fact checking techniques and ending with a look towards the future as seen by EANA members. The conference was organised as a series of panel discussions: The current "state of affairs" - Trust in the Media: Where Do News Agencies Stand (Clemens Pig - President of EANA and CEO of APA, Elmir Huremovic - Member of the Board of EANA and General Manager of FENA, Caro Kriel - CEO of the Thomson Foundation, moderated by Clive Marshall - CEO of PA Group), Business model of news agencies fighting disinformation (Peter Kropsch - CEO of dpa, Wojtek Surmacz - President of PAP, Aimilios Perdikaris - President of ANA-MPA, moderated by Fabrice Fries - Member of the Board of EANA and President of AFP), A look into the future: Turning point in Europe's evolution - Perspectives of news agencies' evolution post-Covid & war in Europe - news agencies' roles in societies (Patrick Lacroix - CEO of Belga, Manja Grcic - Director General of Tanjug, Kimmo Laaksonen - CEO of STT, moderated by Clemens Pig) and War on Information: EANA journalists reporting on the war in Ukraine (Christine Buhagiar - Director for Europe at AFP, Nataliya Kostyna - Head of International News Desk at Ukrinform, moderated by APA's Editor-in-Chief, Maria Scholl). "We have never seen so much disinformation", said a panelist during a presentation on war reporting and fact checking from Ukraine, referring to the amount of fact checks needed to be done by news agencies since the beginning of the war until that moment.According to Clemens Pig, President of EANA and CEO of APA news agency, "one of the solutions to the future evolution of news agencies is cooperation and we need to focus on that".
EANA also held an Extraordinary General Assembly which decided to suspend Russian news agency TASS from the Alliance, indefinitely. 
The Board of EANA
Clemens Pig, President of EANA, Chairman of the Board of Directors and CEO of APA – Austria Press Agency, Austria
Fabrice Fries, member of the Board, President and CEO of AFP, France
Elmir Huremovic, member of the Board, General Manager of the Federal News Agency FENA, BiH
Clive Marshall, member of the Board, Chief Executive of PA Group, UK
Alexandru Ion Giboi, Secretary General of EANA