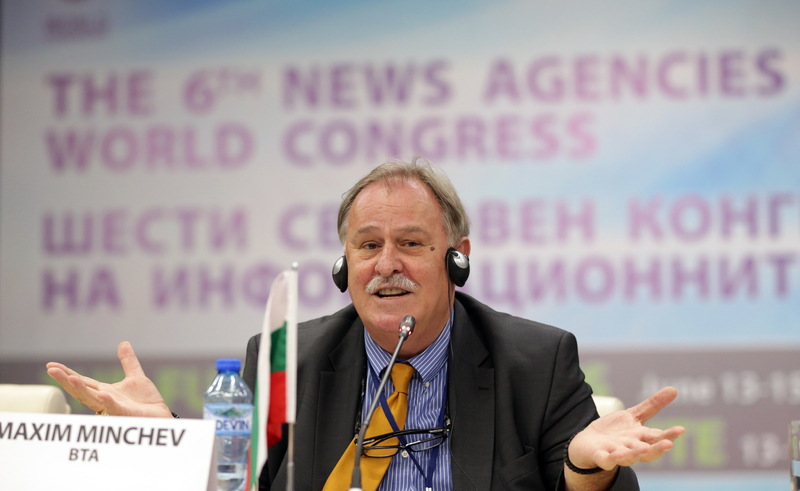 Maxim Minchev, the late director general of Bulgarian news agency BTA
Maxim Minchev, director general of Bulgarian news agency BTA, passes away at 67
It is with a heavy heart that we now have to make the very sad announcement of our colleague Maxim Minchev passing away. He died in the hospital, after getting infected with Covid-19. Maxim was 67, and had been the director general of BTA for the past 17 years.
Born on June 5 1953 in Sofia, Minchev graduated in journalism from Lviv University, completed a course in education at the Georgi Rakovski Military Academy and from 1993 to 1996 was a NATO Fellow at the Alliance's headquarters in Brussels.
His career as a journalist included working for the Bulgarian National Radio and for Radio Free Europe. He had many interviews with top world leaders throughout his long and very appreciated career.
He first became director-general of BTA in 2003 and held a number of other notable posts, including, from 2016, as president of of the Association of Balkan News Agencies – Southeast Europe, as secretary-general of the News Agencies World Congress, and as president of the Black Sea Association of National News Agencies. During his term in BTA, he was a promoter of free journalism and made several notable improvements to the Bulgarian agency's activity.
Maxim Minchev also initiated annual meetings of Bulgarian expatriate media from around the world, for which he was very appreciated by the Bulgarian diaspora.
He authored numerous books, including about his travels.

Maxim was always one to look to the future with optimism. A one-of-a-kind good man, full of life and happiness and love for the world. We lose a great friend, and a very important voice of the EANA community, always pleading for balance, equality and evolution.

We are expressing our sincere sadness for Maxim's passing, and send condolences to his grieving family.

We will always keep Maxim in our thoughts and prayers.

May God rest his soul.
The Board of EANA, for the European Alliance of News Agencies